Description
The Mycle Cargo has been innovatively designed with space in mind and comes equipped with rear racking, making this a practical solution for carrying luggage and everyday items. You could also mount a child seat or two and bring the kids along for the journey.

Constructed in the UK

Quick Setup

Removable battery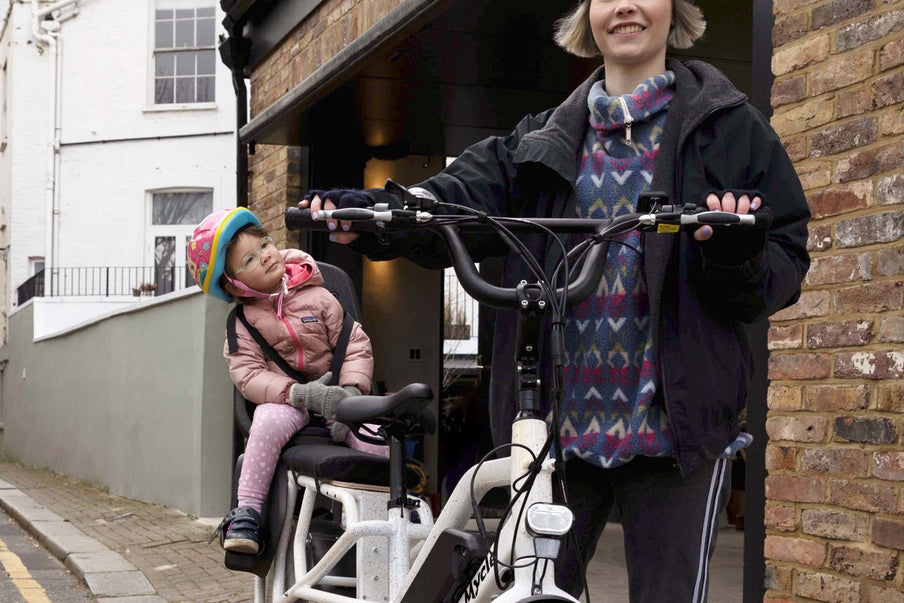 Heavy-duty haulage at a highly accessible price. It's carried shopping, an eight year old, and even a 74 year old up some of the hilliest roads. [Cycling Weekly]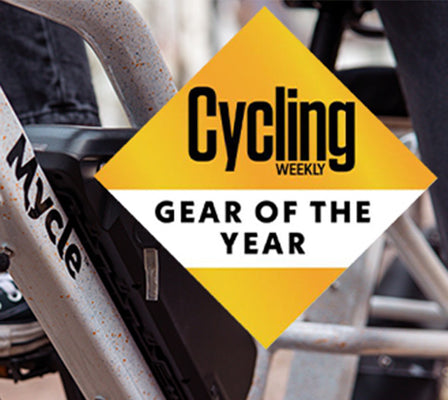 Easily Climb Hills
The power the bike delivers can easily cruise up hilly roads. With 7 speed Shimano gears, this e-bike ideal for giving you an extra boost on steep hills or when you need it even with cargo, or another adult on the back!

Charges in 5 Hours

Up to 120km Range

Better for the Planet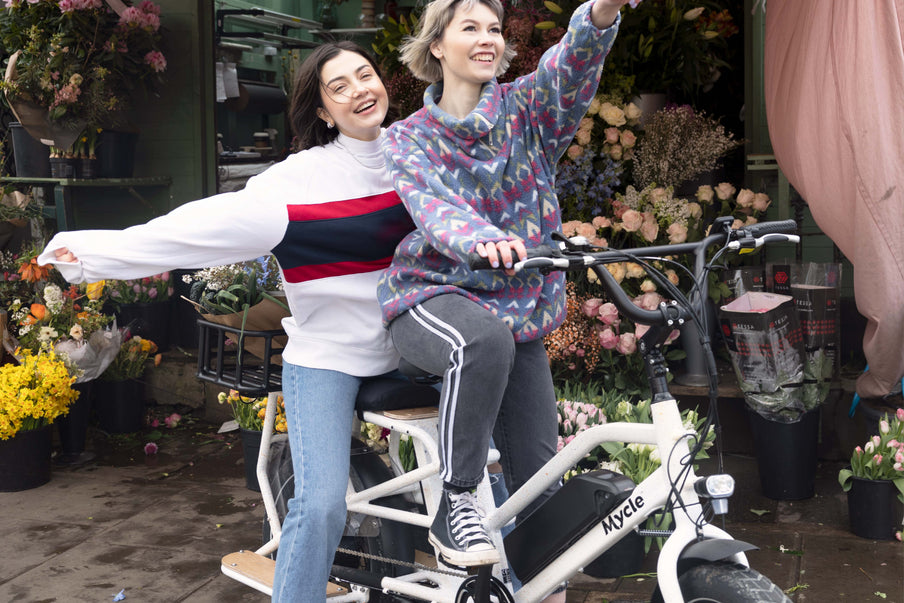 Ride Comfortably with Heavy Loads
Add baskets or child seats to the rear of the bike and let the bike do all the heavy lifting with a maximum pannier load of 125kg. Explore the Mycle Cargo Accessories Collection to customise your e-bike with style and ease for everyday life.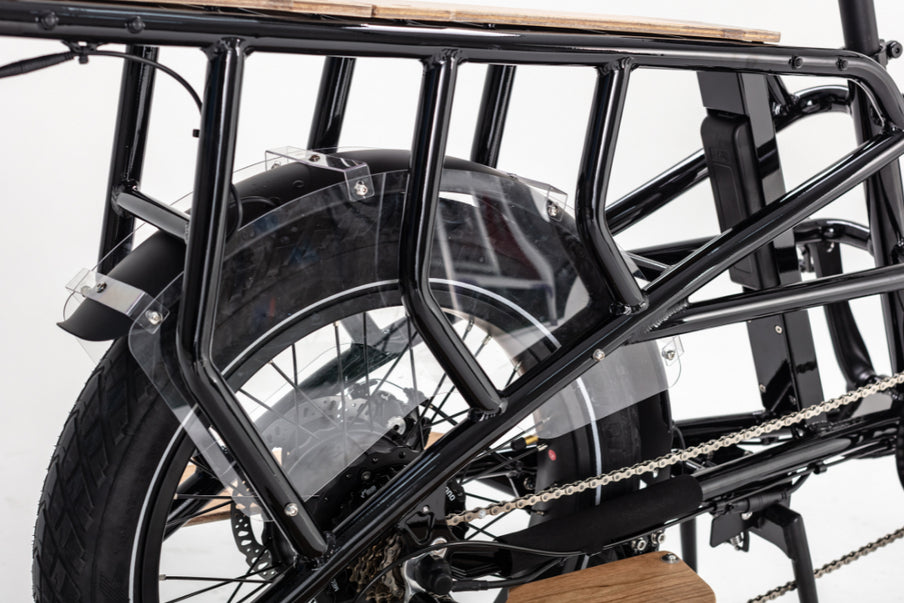 it's been designed by someone who knows what it's like to ride every day, year round, with a growing family [Cycle Sprog]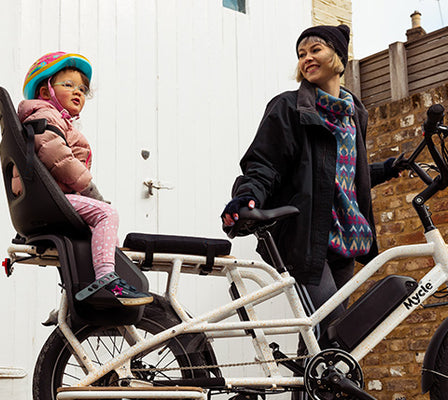 Peace of Mind Security
With a combination of free warranty and in-built security features, you can feel safer using your bike to get around.

Free 12 Month Warranty

Lockable Battery

Comfortable Seat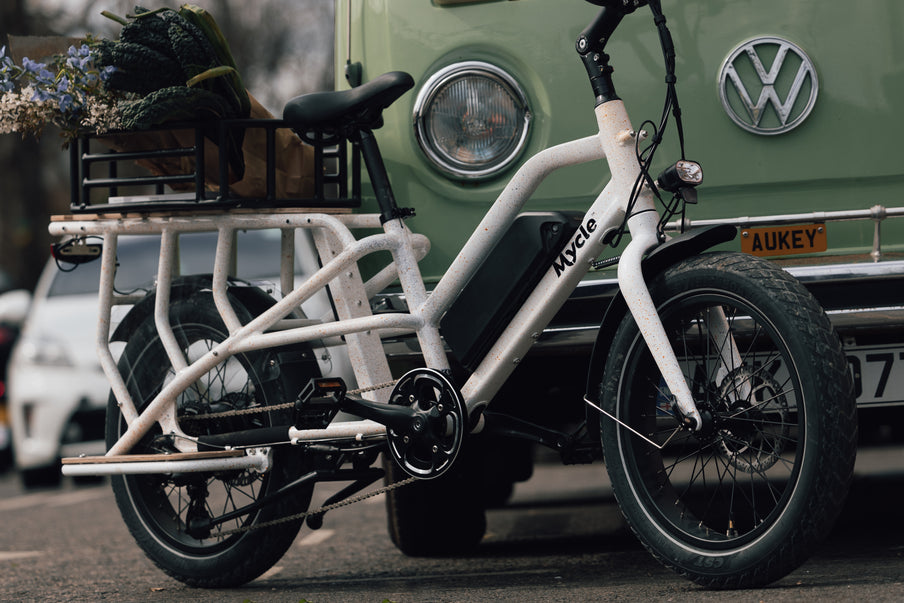 Robust & Practical
Hop on and off this electric bike with the dual leg, spring-loaded kickstand that brings you stability when loading luggage or cleaning. We've designed this bike with a dual leg kickstand to help prevent the bike tipping to one side when in use, given that there may be precious cargo on the back!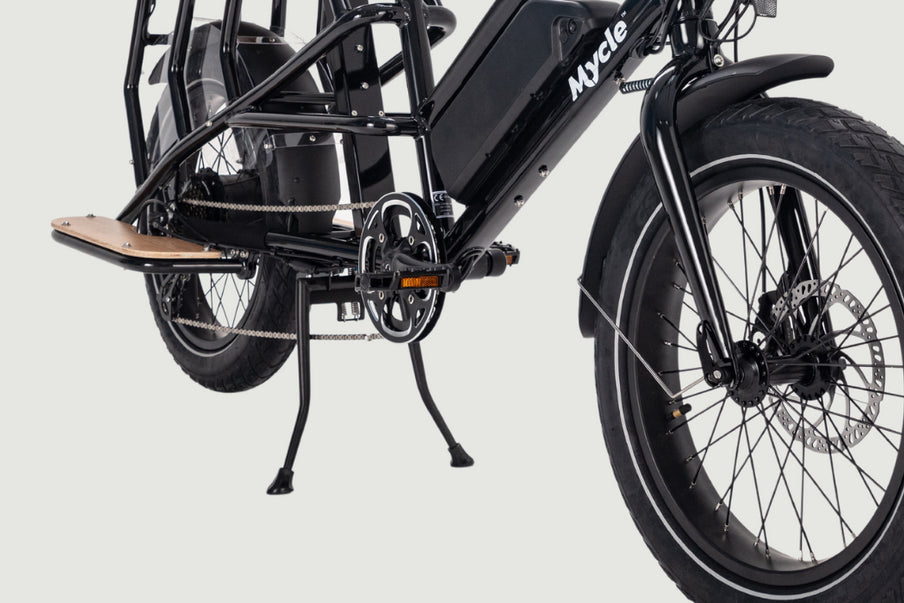 acres of space for extra roomy rear panniers or awkwardly long objects [ebike tips]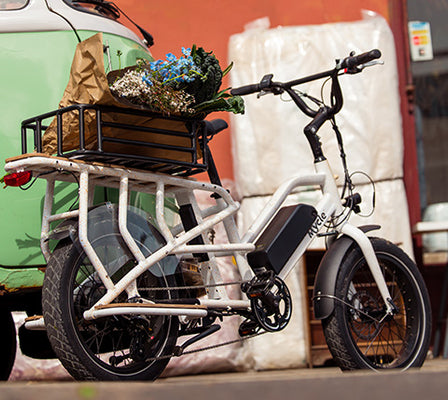 Innovative Design
Extra visibility at night or in adverse weather with the reflective strips on the puncture-resistant tyres and an integrated rear light. The rear light works as a light, and increases in brightness when the brakes are activated. There is also a bright front LED light, controlled via the controller on the handlebars.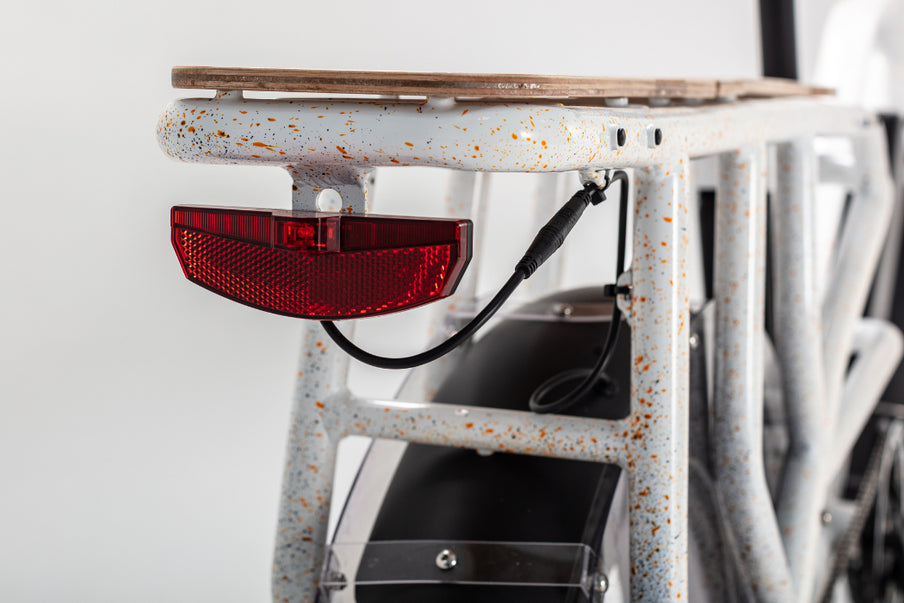 Puncture Resistant Tyres
Aramaid fibres are incorporated into a 1.5mm layer of natural rubber between the tread and the casing. These fibres resist cuts and tears from road debris, while the extra rubber protects sharp objects from travelling through to penetrate the tyre.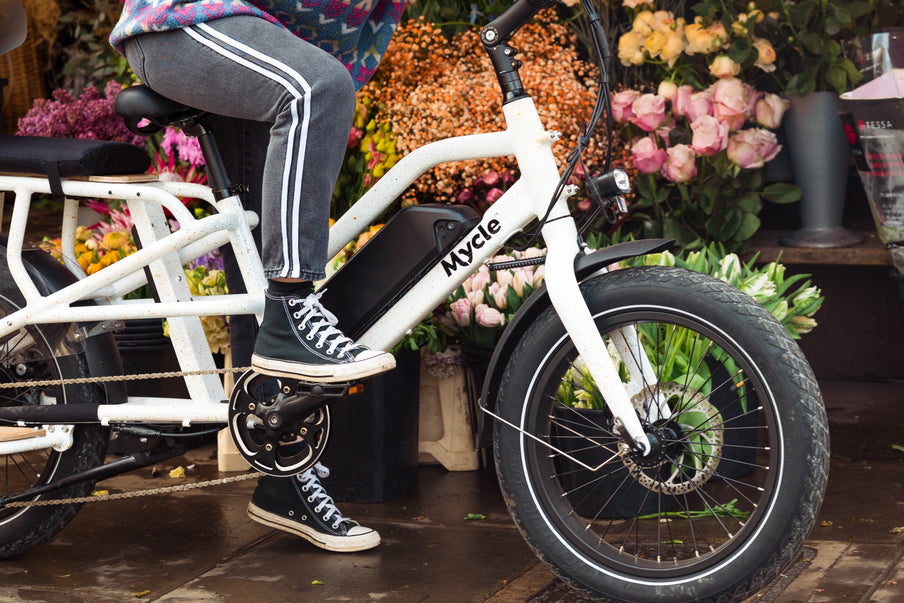 …one of the most exciting e-bikes I've seen this year [TechRadar]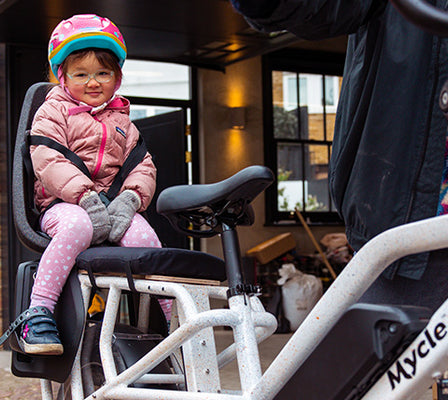 LCD Display As Standard
Your Cargo now comes with a new Digital LCD, giving you up to 5 levels of power assist, real time cycling stats (including a speedometer and distance travelled) and even more control at your handlebars. A high contrast screen makes it safe to use on the roads, it's IPX6 waterproof rated and comes with an extended manufacturers' warranty.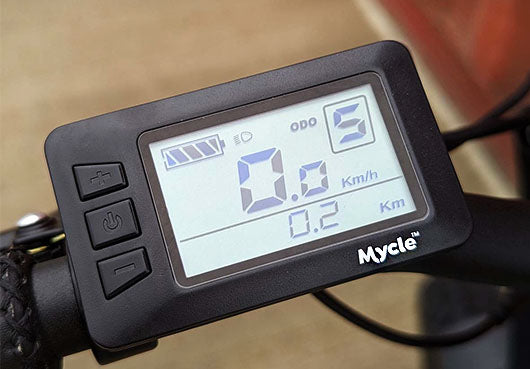 Mycle x Ecologi
Planting trees is one of the best ways to reduce carbon pollution, so we have proudly teamed up with Ecologi who are known as the market leader in collective climate action. They are currently funding 1 million trees every few weeks!
At Mycle, we are passionate about reducing our carbon footprint – did you know, our UK workshop runs off 100% renewable energy?!
In this exciting partnership, every order = 1 tree planted! We have already reached our first milestone with over 1000 trees planted!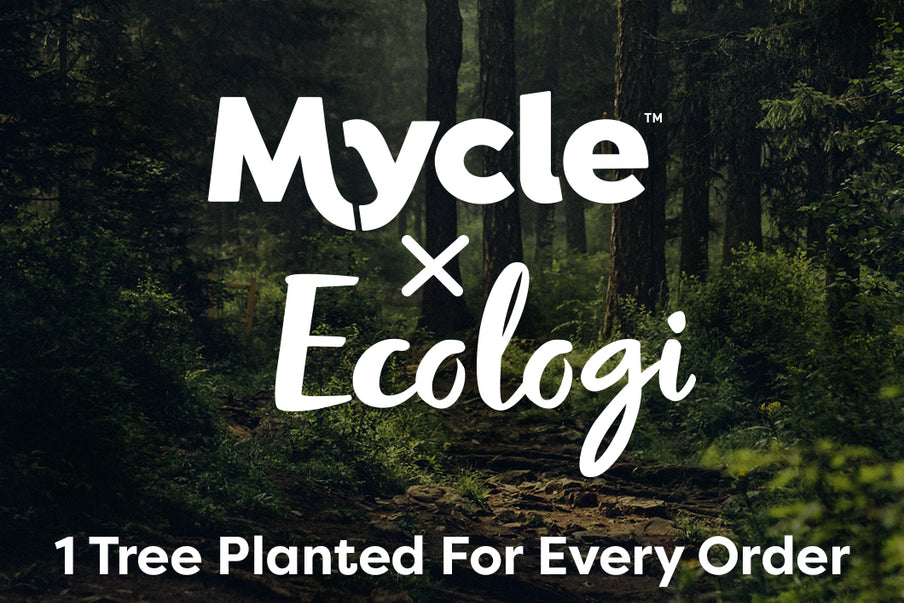 About the Mycle Cargo
A cargo electric bike ideal for family cycling or anyone needing to transport a heavy load. Designed with a powerful rear hub motor and smooth acceleration.
Constructed in our Gloucestershire warehouse by Cytech-trained technicians, Mycle is one of the first electric bike brands to release a British built cargo bike. With up to 120km/74miles in range, this bike has one of the largest ranges of an electric bike on the market and is perfect for full days hauling cargo or family days out.
The Mycle Cargo is perfect for those looking to carry a load with them, whether that be a full supermarket shop, boxes for deliveries, or the precious cargo that is your family! This cargo bike can fit 2 child seats on the rear rack and one seat on the front bars (see the optional extras above for recommended car seats). With a total rear rack weight limit of 125kg, and a total bike weight limit of 210kg, the Mycle Cargo has proven to be very popular with parents up and down the UK using it as a viable alternative to a car for short and mid-length journeys. No kids or cargo to haul? This model can also comfortably fit an adult sitting on the back should you wish to take a friend out with you!
The cargo features robust puncture resistant tyres, 3 inches in thickness to give a comfortable ride. The 250W 48V brushless rear hub motor and 3 level of power assists make hills seem like flat land, regardless of the load. Don't forget of course that all Mycle bikes come with a free 12 month warranty, and for an extra £200 you can upgrade this to 24 months for absolute piece of mind.
Want to read more Mycle Cargo reviews? Don't just take our word for it of course! Read the techradar review which called the Mycle cargo 'one of the most exciting e-bikes' of 2022.
'Mycle set out to create a bike that's a truly viable replacement for a car at a much more affordable price – and that's exactly what Mycle has done with its very capable Cargo.' Read the bikeradar review to see more.
You now have the choice to upgrade your Cargo electric bike with a huge variety of accessories. Choose from front baskets, rear baskets, basket bags, child seats, passenger handles and much more. Explore the collection of Mycle Cargo Accessories and make roaming free even more enjoyable!
Mycle Cargo Sizing
Minimum seat height:  75cm
Maximum seat height: 95cm
Standover height: 56cm
Seat tube: 41cm
Width: 73cm
Total length: 197cm
Height: 120cm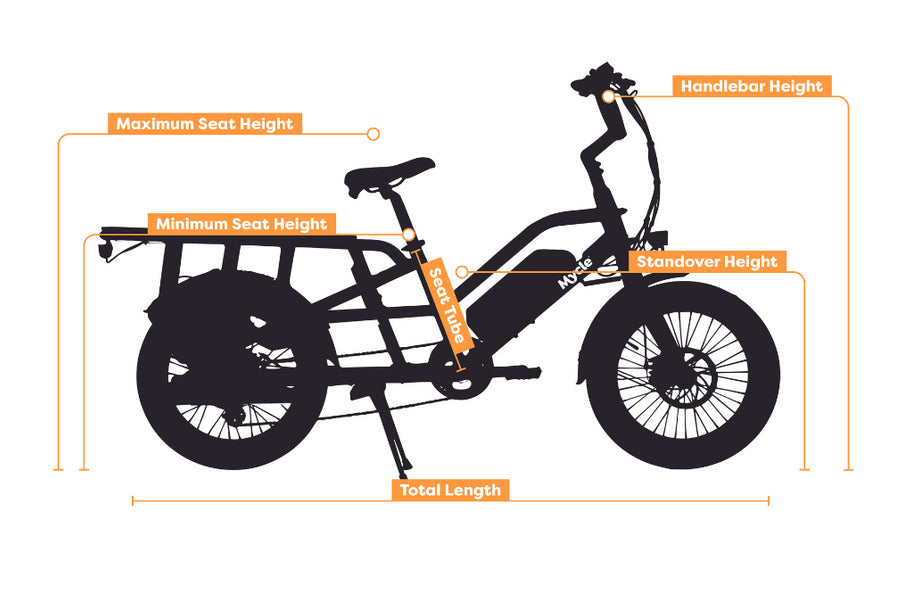 Specs
BIKE WEIGHT: 33kg for 60km model, 36.6kg for 120km model
MAX LOAD: 210kg (Combined rider + load weight)
MAX RACK LOAD: 125kg
DIMENSIONS: L187cm x H120cm x W73cm
RANGE: 60km/120km
BATTERY: 48V 15Ah LG Battery 21700 cell (x2 if 120km model selected)
BATTERY WEIGHT: 3.6kg
CHARGING TIME: 5 hours
MOTOR: 250W 48V brushless rear hub
MAX TORQUE: 65 Nm
POWER ASSIST LEVELS: 3
MAX SPEED: 25km/hour
PEDALS: Non-slip
SADDLE: Comfortable saddle with integrated rear passenger handle
FRONT LIGHT: Integrated bright front LED light
REAR LIGHT: Yes, doubles as rear light and brake light.
USB PORT: No
DISPLAY: LED Display. Upgrade available for Digital LCD display(giving you 5 levels of power assist).
CHARGER: Standard UK 3-pin plug
WHEEL DIAMETER: 20 inches
TYRES: CST puncture resistant 20×3″ with reflective strips
BRAKES & GEARS
BRAKE TYPE: Front & rear Hydraulic Disc Brake
BRAKE LEVER: Tektro Brake Levers
GEARS: Shimano 7 speed
FRAME
FRAME: 6061 Aluminium alloy